Pulse Diagnostics offers healthcare services in Digital X Ray, Bone Density, Mammography, Lab services, Neurology, gasteroentology, consultation suits, 4D Ultra Sound and Cardiology, all of them having diligent approvals from designated medical bodies like BARC, Mumbai, AIIMS New Delhi, Biorad and CMC Vellore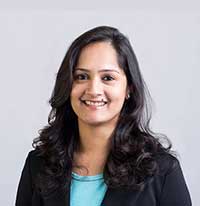 Sunaina Bihani
Managing Director
What CEO stands for in the world of corporate hierarchy is totally different for Sunaina Bihani, the E, at the centre of CEO, is for 'execution'. The journey of Pulse Diagnostics a Kolkata based healthcare service centre, began in 2001, thanks to the enthralling vision of Sunaina, who chose to make a difference in a sector that was begging for a change!
---
About Us
While most of Eastern India and North East India continue to struggle in providing hygienic and friendly services in the health care sector, Pulse Diagnostics was all set to make the difference. From its inception in 2001 till date, the idea has been always to serve the masses in a courteous manner, after all at a place like a clinic where too many anxious faces hang out, how much does it really take to remind a visitor that he will not be harassed!

According to an IBEF study, the Indian healthcare industry is witnessing growth at a rapid pace and it is expected that the sector will touch US$ 238.76 billion by 2020. The report also suggests that these new opportunities are expected to create 40 million new jobs and around 200 billion increased revenues by the end of 2020.

Pulse Diagnostics, forms a very minor part of this factually huge industry yet plays a major role in the lives of ordinary men and women of Kolkata. Located in Lansdowne, Pulse Diagnostics has been able to draw a large customer base over the last decade; this was largely due to a major gap in the OPD services in bigger hospitals including the private players.

With comprehensive and up to date quality certifications from NABL, Pulse Diagnostics offers healthcare services in Digital X Ray, Bone Density, Mammography, Lab services, Neurology, gasteroentology, consultation suits, 4D Ultra Sound and Cardiology, all of them having diligent approvals from designated medical bodies like BARC, Mumbai, AIIMS New Delhi, Biorad and CMC Vellore.

Pulse Diagnostics has grabbed a good number of corporate tie-ups in and around Kolkata, allowing giving ample assurance to its business clients in terms of 'Human Capital'.

Pulse Diagnostics as the name suggests is symbolic for the first touch in the medical world between a physician and his patient, irrespective of what the problem is. Similarly, Pulse Diagnostics makes that extra effort to feel and fulfill that unseen gap in the healthcare segment be it a simple report or even a comprehensive outlay of a patient's problem, Pulse Diagnostics ensures that all needs are taken care of.

The company having visualized a steady growth already aims to become a high quality cost effective diagnostic center accessible to the common man in Kolkata and let's just say that the company has set sails for this challenging journey. In 2011 the center got a new look and acquired a total area of 2500 sq. ft more to its existing facility. There are visiting doctors from all over the country and reports are accessible online! There are really no bonus points one would expect while watching blood flow from ones veins into a sparkling fresh syringe except for an assurance that all is indeed well.
Our Vision
Our Vision is to delivering total patient care by combining medical and service excellence, which is being fully served in this center. Pulse is committed to utmost quality care.
---
Our Mission
OUR MISSION is to provide high quality, cost effective diagnostic center accessible to the common man in Calcutta.

Keeping patient care as the foremost goal in mind, we have taken utmost care to provide a very clean and hygienic place for patients and have highly trained and qualified staff from South India who has joined hands with the local staff to give quality care.

Our doctors are experts in their fields, they not only address the illness of the patient, but also Concentrate on the overall wellness of the patients.

Other highlights of our center are that we are centrally located, and therefore accessible by all forms of transport, making it easier for patients to reach us. This is a pollution free centrally air-conditioned center.
---